Trunki Voucher Codes UK

5.0
out of 5 stars from 1 votes
Subscribe for VoucherButler Newsletter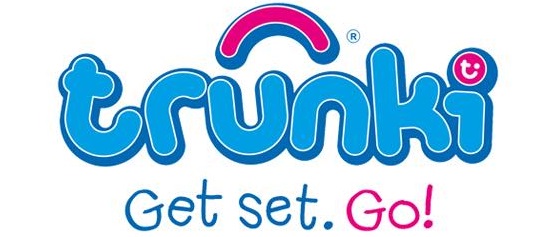 About Trunki 
If you're a fan of the TV show Dragon's Den, you may have seen Trunkis in their early conception. The idea was to bring a bit of fun and magic into the world of children's luggage, namely by giving child sized cases fun, anamalistic designs, wheels and a leash so little ones can sit astride the luggage and been pulled along. You only have to walk around a busy transport hub or airport baggage claim to see how much kids love Trunkis. And although the idea was passed up by the Dragons at the time, Trunki was destined to become a success and capture the imagination of the nation's young travellers.  And it's not just travel cases either, Trunki's motto is that "we make fun, innovative travel gear for families on the go!" Trunki offer great promotions, such as gifting a free saddlebag when you buy any Trunki. You can also enjoy free delivery in the United Kingdom.
Online you can experience the magic of Trunki with your child, you can even design your own Trunki. The Trunki Customiser lets you choose from a selection of colours and patterns until you've got the perfect Trunki! The build quality is superb with each Trunki carrying (ahem!) a five year guarantee, so you can shop with complete confidence that what you are buying is top quality. There are also plenty of options beyond the famous Trunki itself. For toddlers there is a Toddler which gives you the reins to help your little toddler in their early phases of walking. The Boostapak is a clever piece of design that works as a backpack and as a booster seat for the car: smart and space saving! For the pool and paddle pool there are fun swimming bags as well as some great accessories, towels, blankets and neck pillows.
Voucher Butler are geniuses when it comes to finding out ways to save you money! The first, and frankly most obvious thing you can do, is to check out the offers section on Trunki's online store – there's so much on offer in different price categories that you've got a good chance of digging out a bargain. And if not, fear not, our voucher codes and deals are on hand to help anyway!
Trunki Discount Code Offerings
As ever, we're here to bring you the most amazing deals and promotional information. Keep an eye on our VoucherButler pages for the latest updates and offers because our tech whizzes have the offers updating automatically all the time- so keep checking! Remember that some of the discount codes have an expiry date and some will ask you to spend a minimum amount before they become valid.
5% off Online Purchases
Grab yourself a neat little saving of five perc ent with this discount code. This one need to be redeemed at checkout.
25% off Trunki
This deal with O2 Priority rewards saves you more a quarter on autumn wear, see online for further details.
30% off Gruffalo Trunki
A Gruffalo? On a Trunki? Yes it's true and it doesn't have to cost you the earth either with this code.
10% off voucher code
Get a tasty 10% off with this discount code, offer for a limited time only and needs redeeming at the checkout.
Using your Trunki Voucher Codes
Trunki is a really easy site to navigate, even the Trunki Customiser is a doddle to get your own customised Trunki! It's also really simple to benefit from the deals and codes online. Just follow these easy to follow instructions and you'll be saving money before you know it!
1) Head to the Trunki website. Have a look around, maybe with your little ones too so they can choose (unless it's a surprise!), until you find the fab the items that you want.
2) Add the items to your online shopping basket.
3) At the checkout, select your delivery address. Next, you may find that some deals may be automatically accounted for in your balance and accounted for by the retailer. If there is a coupon or voucher code to be used, look for the 'Add voucher' field on the payment page and click it.
4) Enter, or copy and paste, the voucher code you have discovered from VoucherButler into the text field, making sure all of the numbers and letters are correct so you don't miss out.
5) The page should now refresh and your balance should update with the voucher's discount and voila! You're ready to checkout. More money saved!
| | |
| --- | --- |
| Voucher Codes: | 0 |
| Deals: | 0 |
| Free Shipping: | 0 |
| Total offers: | 0 |
Trunki Towers
Shaftesbury Chapel
Union Road
Bristol, BS2 0LP
United Kingdom
0117 9542 780
Stores from same category