Where is Thorpe Park?
Thorpe Park Resort is a British theme park and resort, self-proclaimed "The UK's Most Thrilling Theme Park", managed by Merlin Entertainments. It is home to the UK's fastest roller-coaster, the Stealth: it can go from 0 to 130 km/s in 1.9 seconds. It is also the UK's second tallest roller-coaster, with a maximum height of 62.5 meters. There also some rides based on popular culture, such as: SAW – The Ride, based on the SAW film franchise, The Walking Dead: The Ride, based on the Walking Dead franchise, and some attractions based on the game franchise Angry Birds, such as Angry Birds 4D.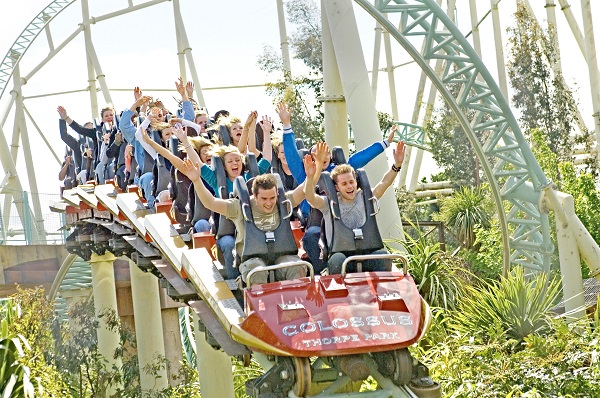 Aside from housing the fastest roller-coaster, the park also houses (and housed) many other achievements, such as: first inverted coaster with interlocking corkscrews (Nemesis Inferno), steepest free-fall drop in the world (SAW – The Ride), former world record for most inversions on a roller-coaster (Colossus), former tallest water ride in Europe (Tidal Wave), former tallest Wing coaster in Europe (The Swarm) and former largest screaming swing in the world (Rush).
For the full experience, you can also book your overnight stays at the park's hotel. Being both a theme park and a resort, it features a themed hotel, the Thorpe Shark Hotel, which features 90-rooms made from adapted shipping containers, keeping you close to the rides during all of your stay. No need to hunt for hotels nearby and then having to fight laziness to go back to the park the next day!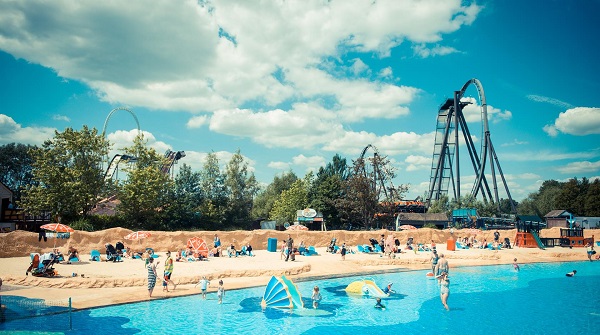 So where is Thorpe Park? Usually, theme parks and amusement parks tend to be located in the countryside, especially the larger ones, as it is easier to find enough free terrain to build all the attractions, particularly large ones such as roller-coasters. Thorpe Park, although it is not different in that aspect, found a really nice sweet spot: it is located just outside of the London Commuter Belt, to the south-west, between the towns of Chertsey and Staines-upon-Thames, in the Surrey Country.
It is sits on an "island" surrounded by many small lakes: Abbey Lake, Manor Lake, Fleet Lake, St. Ann's Lake and Britannia Arena. It is connected to the rest of the UK by a thin strip of land to the west and a bridge to the east (which leads to the main entrance). As it first opened as a water park in the late 70s, this location proved strategic due to the amount of water available.
Although it is pretty far away from any medium and large-sized city, the facilities it provides within its little island are more than enough to make you feel at home. Being near the London Metropolitan Area, however, means that if you need to take a trip to a city, you can just take the M3 and head east, getting there in no time. Definitely the best located park in the country!