Hawes and Curtis Discount Code UK

5.0
out of 5 stars from 1 votes
All active Hawes and Curtis discount codes
10% off for new customers
Terms & Conditions
Valid on full price items for new customers only.
10% off for new customers
Terms & Conditions
Valid on full price items for new customers only.
Free Standard UK Delivery on all orders over £175
Subscribe for VoucherButler Newsletter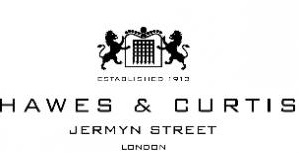 Hawes & Curtis
Nowadays offering quintessential menswear and womenswear, Hawes & Curtis was originally founded over a century ago by two highly regarded outfitters, one Ralph Hawes and one George Frederick Curtis. Since that first store was opened at 24 Piccadilly Arcade in February 1913 the brand became synonymous with the sharp dress of the aristocracy and Hollywood's elite. With customers over the years which include the Duke of Windsor, Cary Grant, Clark Gable, Bing Crosby, Lord Mountbatten, Frank Sinatra and Fred Astaire, you'll soon see why Hawes & Curtis is still such a highly regarded brand.
For the men, if you're looking for that suit for a wedding, work or just for casual wear you'll find classic fit, slim and extra slim will get you looking your very best in the style that best suits you. The suits are made from 100% wool to ensure a soft luxurious feel to the touch and are exquisitely tailored. And to complete the look, you'll need a shirt that complements the colour and fit of your suit. Lucky there's such amazing choice: from slim, to classic fits, White, Blue, Bengal Stripes, pockets or pocket less, tailored, short sleeve and non-iron. And why not check out the ties, belts, cufflinks and bags to get the complete look?
For the ladies there are fitted and semi-fitted options for shirts, executive shirts for the modern businesswoman, boutique blouses as well as a luxury cotton shirt option in the Pink collection. With an assortment of silk, scarves and gloves, you can get the perfect complement to your outfit, enough to strut down Jermyn Street with your head held high.
But looking stylish and debonair shouldn't cost you the earth. Hawes & Curtis regularly have sale items on offer on their online store and some good deals. For those looking to save even more, VoucherButler is here to make sure you're not paying over the odds with our discount vouchers and coupon codes that could save you even more. Remember to check here regularly as our coupons and deals update all the time.
Promo code for Hawes and Curtis
Please note that some of the vouchers listed below require a minimum spend, or have an expiry data. Keep checking here for the latest coupons and discount codes.
10% Off Your First Order
What a lovely way to start and introduce yourself to the wonderful outfits, shirts and smart attire on offer at Hawes & Curtis. For new customers, when you place your first order you net 10% back for yourself.
3 Shirts for £50
Let's face it: sometimes you need to change it up at work and get a fresh look. It's worth stocking up while you're at it, get 3 sharp looking shirts for just fifty pound with this excellent discount code.
Up to 84% Off Sale
Save up to a gargantuan 84% with this splendid discount code from your friends at Voucher Butler
15% Off Raincoats
Yep, it's summer right. But that's why it pays to be foresighted and get your raincoat now. And you never know, it does occasionally rain in the summer months now doesn't it? Save 15% with this great discount on raincoats and beat that damn weather!
Up to 51% Off Menswear New Arrivals
Why wait for the stylish stuff? Huge savings on the latest Menswear lines with this code.
60% Off Womenswear
A whopping 60% off Hawes & Curtis womenswear, whether it's for you or a gift, such huge savings are always worth having!
Using your Vouchers
Hawes & Curtis website splits up into easy to navigate categories depending on whether you are looking to fit yourself out with a suit, shirt or accessories and of course is split into mens and womenswear.
Using your Voucher Butler codes is simple, so let us walk you through it. Just follow these straightforward steps and you'll be saving money before can try on that sharp suit, lift your cuff to your chin and say, "the name's Bond…."
1) Firstly head to the Hawes & Curtis website. Take some time to peruse the selection of clothes.
2) Pick the items or gifts you're interested in and simply add them to your shopping basket.
3) Go to the checkout, entering the relevant delivery information and contact info and look out for the 'Add voucher' section.
4) Now just enter that wonderful voucher code you have discovered from Voucher Butler and paste or copy it into the text field.
5) The page should refresh, displaying your new balance and voila! You're ready to checkout. If you didn't already, you are about to look money! Oh, and you saved a bunch of it too.
| | |
| --- | --- |
| Voucher Codes: | 2 |
| Deals: | 1 |
| Free Shipping: | 0 |
| Total offers: | 3 |
Stores from same category