Van Meuwen Discount Code UK

5.0
out of 5 stars from 1 votes
Subscribe for VoucherButler Newsletter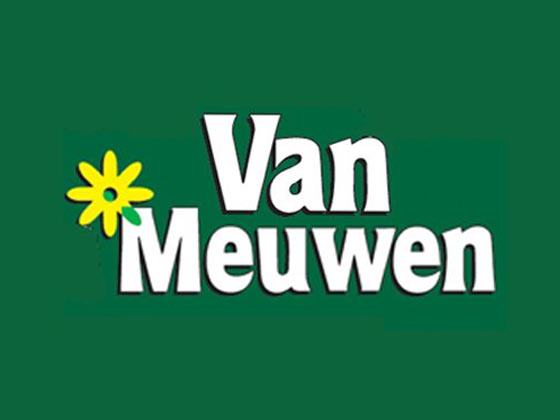 Van Meuwen
Got green fingers? Or know somebody who is? Van Meuwen's motto is "Quality gardens at everyday prices" and have been delivering plants for over forty years. While there are plenty of online florists such as eflorist, prestige florists and iflorist, Van Meuwen offers a more holistic range of for the serious gardener.
In the Flower section you will find bulbs, plants and seeds for almost any time of flower you would wise to grow, be they exotic or something for the greenhouse. If you're into a productive garden that supplies fruit or vegetables, you can get that at Van Meuwen too. Berry plants such as Strawberry, Blueberry, could give you some delicious berries for next summer while fruit trees such as apples, cherry, pears and citrus fruits could not just make your garden beautiful, but have it abound with delicious fruits. If you've got a veg patch or an allotment, you can get all you need to grow onions, tomatoes, garlic and root veg too. For those who like their garden to look beautiful, there is a superb range of shrubs, roses, tree and ornamental trees to bring colour, shape and wildlife into your glorious garden.
Van Meuwen goes beyond just the flowers, veg and trees to also offer garden supplies and accessories to help you get your garden looking great. Accessories such as stand up vegetable trugs which are as good for country gardens as they are urban balconies.  Baskets, fertilisers and gardening tools are all available for delivery. And if you need advice, take a look at the Gardening info section or sign up to the newsletter to receive exclusive offers. When you place your order, you can track its progress online so you know exactly when your order will arrive – no need to wait, wondering!
Voucher Butler are proud to do the elbow work for you and find the best deals and promotions with our network of Voucher Butler super sleuths. That's how we can supply you with the most wonderous of discount codes, sales info and promotional knowledge that will help to alleviate the burden on your purse or wallet.
Van Meuwen Discount Code
When Voucher Butler aren't rushing around our stately mansion we use our spare time to do our favourite pastime: savings discovery! Yep, we're here to save you as much money as we can. We're lucky to have a team of boffins in our IT department make sure the latest promos, offers and savings info updates automatically on our Voucher Butler site, so remember to come back and see the latest! Please note that some of the vouchers listed below require a minimum spend, or have an expiration date.
£5 voucher on your next purchase
Place any order on the Van Meuwen website and you'll receive a five pound voucher to spend on your next purchase online. This offer is available directly from the retailer.
£10 off Orders over £50 plus Free Delivery
This brilliant saving requires a code and runs until the end of 2016, so take advantage today with this superb code brought to your attention by the good people at Voucher Butler.
Up to £20 off Garden Ready Plant Orders
Grab yourself a fantastic deal with garden ready pants from just £20.
15% off Orders over £50
Grab yourself a superb discount of fifteen per cent when you spend over fifty pounds. Use the provided voucher code to unlock this beauty.
Free UK Delivery on orders over £50
Enjoy free delivery on orders when you spend over fifty pounds. This offer is available automatically at checkout when you pass the fifty pound mark.
Using your Van Muewen Discount Code
Your Voucher Butler codes are simple and easy to use. Let's go through it together. Just follow this step by step guide and you'll soon have a garden to behold!
1) Firstly head to the Van Meuwen website. Take a good look around at the plants, flowers, trees and shrubs and accessories until you find the items you would like.
2) Add the items you're interested in to your online shopping basket.
3) Some deals are available directly online and are accounted for automatically at checkout, others require a voucher code. If you need to use a voucher code look out for the 'Add voucher' section.
4) Where applicable, just add that wonderful voucher code you have discovered from Voucher Butler by pasting or copying it into the text field.
5) The page should refresh, displaying your new balance and voila! You're ready to checkout.
| | |
| --- | --- |
| Voucher Codes: | 0 |
| Deals: | 0 |
| Free Shipping: | 0 |
| Total offers: | 0 |
Stores from same category