Bargain Crazy Discount Code UK & Voucher Code

5.0
out of 5 stars from 1 votes
Subscribe for VoucherButler Newsletter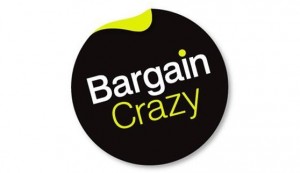 Bargain Crazy
Bargain Crazy, as their name aptly suggests, is the place to go for heavily discounted products. With ten stores around the UK and a jam-packed website ranging from clothing, homeware, to toys and electrical goods, you'll be able to get yourself some heavily discounted products of up to 80% of the catalogued price. Part of the Littlewoods Clearance family, Bargain Crazy sells surplus stock for the Shop Direct Group meaning that you can really get your hands on knockdown bargains. The prices may be small, but the labels are still massive with brands such as Adidas, FCUK, G-Star RAW, Lipsy, Nike and Superdry. The refurbished electrical stock comes with a year's warranty, meaning you've got peace of mind.
It's easy to find something specific with browsing by category, colour or size or simply flick through the range of gear to find that special something that catches the eye. Womenswear offers everything from fashionable coats through to bikinis and a dedicated section just for dresses. A range of beauty products, fragrances and accessories are also available to complement your look. For the men there are sharp looking suits, cosy knitwear and casual hoodies all available at a fraction of catalogue cost. For children there are brilliant boys and girls sections with everything from beach wear to everyday clothes and footwear, as well as toys and games to keep them entertained. Kit out your home with the price-busting furniture selection that includes everything from beds, sofas to wardrobes and dining room tables.
For those with the eagle eye for a deeper bargain, Voucher Butler recommends checking out the warehouse clearance section for the truly gob-smacking. And if that still isn't enough, Voucher Butler always has some great coupons and discount codes to make it even cheaper.
We're always looking to fix you up with the most eye-popping deals. New deals arrive all the time, so don't miss out on our great vouchers by keeping an eye on the VoucherButler page for the latest updates and offers.
Bargain Crazy voucher code offerings 
Note that some of the Bargain Crazy voucher codes have an expiry date and some may ask you to spend a minimum amount before they become valid.
Get £10 off orders over £30
A tenner in the pocket is worth two in the bush. Or something like that. Just spend £30 and your crisp tenner gets to stay all snuggly in its homely bank account. Awfully nice of you, what, what.
Up to 75% off refurbished electrical items
This gargantuan offer sees you saving three quarters of the price of all refurbished electrical items. Bargain Crazy guarantee these electrical items for a year as standard, so go ahead and be blissfully careless with your purchases for the first twelve months.
Special offers with Newsletter sign ups
Never miss out on awesome promotions again by getting the latest news and offers from Bargain Crazy, all by simply signing up to their newsletter.
Up to 40% off refurbished laptops
More mammoth savings served up to you on Voucher Butler's silver tray of goodies, and remember all refurbished electrical goods also carry a one year warranty as standard.
Delivery for £3.95
Get your items delivered to your home for as little as possible with this handy voucher.
£5 off when you spend £20
Twenty smackers goes a long old way at Bargain Crazy, so it's nice to have a cheeky fiver back in your pocket when you reach that modest twenty pound milestone.
Using your Voucher at Bargain Crazy
It's easy to apply your voucher codes when making a purchase. All you need to do is follow these simple, easy to follow instructions and you'll be saving money before you can spell Bargain Crazy backwards! Or say it forwards!
1) Head on over to the Bargain Crazy website. Have a good nose around at the fantabulous range of clothes, homeware or electrical goods until you've found just the thing.
2) Add the items you want to the shopping basket, careful to select the right quantity and size (if applicable).
3) At the checkout, select your delivery address and look out for the 'Add voucher' option and move your cursor into the text field.
4) Enter the voucher code you have discovered from VoucherButler and paste or copy it into the text field.
5) Your page should refresh and your balance will update with the voucher's discount and voila! You're ready to enter your payment details and checkout, more money saved! You canny little devil you!
| | |
| --- | --- |
| Voucher Codes: | 0 |
| Deals: | 0 |
| Free Shipping: | 0 |
| Total offers: | 0 |
Stores from same category