Classic Football Shirts Discount Code UK

5.0
out of 5 stars from 1 votes
All active Classic Football Shirts discount codes
Subscribe for VoucherButler Newsletter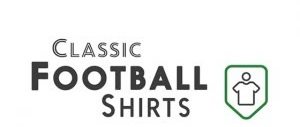 About Classic Football Shirts
The company is an internet based mail order company that offers nationwide delivery via royal mail. The founders, Matt and Doug had obviously hit on a niche market, because less than a year after opening they had already hired their very first employee and only 2 years after opening, they had moved into a new office in the centre of Manchester.
Understanding what their customers want, the guys decided to launch Classic Football Shirts' first clearance line after striking a deal with the sports company Lotto, which gave them access to better discounted rates through bulk orders. This line proved immensely popular as it gave their customers access to great classic football shirts at a much more competitive price. As a result the guys struck up a series of deals with the main suppliers and in some cases even directly with the football club, as in the case of A.C Milan. This cut out the middle man and allowed Classic Football Shirts Ltd to lower the price of their shirts to give them a competitive edge on their rivals Uksoccershop.com and Footballshop.com. As of 2016, Classic Football Shirts Ltd is doing better than ever. They have signed supply agreements with more than 50 clubs, 20 brand labels, launched their own successful Youtube channel and recently increased their warehouse space to handle all that extra stock! Classic Football Shirts LTD is truly a company on the up, so if you are looking for football shirts then this is the go to place for you.
What you can find at Classic Football Shirts
Classic Football Shirts Ltd sell a huge range of both the latest and classic football tops. Available in a range of sizes they sell tops from the Premiere league, as well as tops from the more famous top European football clubs. They also sell an extensive range of both home and away international football tops, as well as the highly appealing classic football world cup tops. Perhaps one of the most unique categories of tops for sale, one which most of their rivals don't offer is the 'Match Worn Yops' section. Here you can find some tops that were really worn by the players in both UK, International and even World Cup matches. Some of these great shirts have even been signed by the player and are therefore completely unique and cannot be found anywhere else. They also sell other football kit such as shorts and classic boots, as well as other football related tops. If you have a favourite player they have a really helpful player search, which allows you to easily find your player and see all the tops from their various clubs and international years.
Classic Football Shirts Discount Code UK, Offers and Deals
Classic Football Shirts run a year round clearance sale on selected items that have been reduced to clear, as well as new stock that is reduced to tantalize your taste buds. They have some fantastic discounts on shirts here that were already very competitively priced in the first place. Many tops have been discounted by as much as 50% and some even more. The great news is that the items on sale here are not just the least desirable ones, but are a healthy mix of both top and mid range clubs. The 2016 Champions League Final Milan Official Match Ball for example, has been reduced a fantastic 50% to £59.99. It really is hard to see where else you could get such discounts on such hard to find items and as it that wasn't enough, Classic Football Club also run a series of discounts on other football clothing such as shorts, shocks and other football accessories.
How to use your Classic Football Shirts Discount Code
If you are lucky enough to have a voucher for Classic Football Tops Ltd, then head straight to their website and use it today. Find whatever great quality football top, from whichever club or player your support and simply click on the 'Buy it Now' button. After you get to the checkout page then you will see a discount code box, which is where you enter your voucher code. After you apply the voucher code it will update the order total and apply your voucher discount the your total. Happy Shopping!
| | |
| --- | --- |
| Voucher Codes: | 0 |
| Deals: | 0 |
| Free Shipping: | 0 |
| Total offers: | 0 |
Found just 10 years ago, in 2006 by two young entrepreneurs and football enthusiasts, who used their student loans and credit cards to start up the company, Classic Football Shirts Ltd set out with the aim to provide both the latest contemporary and retro football tops to their customer's at the most competitive price possible. Use you Classic Football Shirts Discount Code at the checkout and save.
Classic Football Shirts
Edwin House
Edwin Rd
Manchester
M11 3ER
United Kingdom
Stores from same category