David Shuttle Discount Code UK

5.0
out of 5 stars from 1 votes
All active David Shuttle discount codes
10% off Cumbria Crystal Whisky Tumblers with Voucher
Terms & Conditions
Some exclusion may apply. Limited time offer.
£10 off Your Next Order with this Discount Code
Terms & Conditions
Some exclusion may apply. Limited time offer.
£10 off all Purchases with this Discount Code
Terms & Conditions
Some exclusion may apply. Limited time offer.
5% off Your Order
Terms & Conditions
Some exclusion may apply. Limited time offer.
5% off at David Shuttle
Terms & Conditions
Some exclusion may apply. Limited time offer.
Save between 20-40% on Riedel decanters with savings up to £180 on a single decanter & prices starting from only £24
Save between 20-50% on Riedel glasses with savings up to £55 on a set of glasses & prices starting from only £14.50
Save as much as £131 on Swarovski Disney collection, Aladdin, Frozen & Little Mermaid all featured
Save as much as £57 on Swarovski Star Wars collection
Save up to 20% on a wide range of Swarovski Crystal figurines & jewellery
Subscribe for VoucherButler Newsletter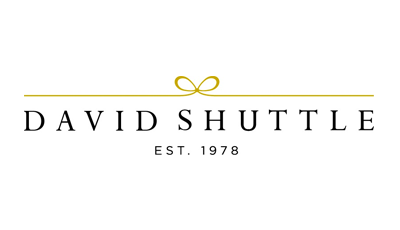 About David Shuttle
The company opened a store in Beaconsfield, selling top brand jewellery and watches and proved to be such a hit with the locals that today, the company has not one but two stores still operating there. In 2008, the company saw a huge opportunity to expand its operations globally through the selling online. As a result, they launched their website and began offering a global mail order service to allow them to reach their customers in every corner of the globe. David kept the business in firm hands, while also keeping the family in on it, his son Joseph recently took over overseas operations under the watchful eyes of co director Jonathan Partridge. Meanwhile, the company has stayed true to its motto, which states that 'We aim to give you, our customer, the best service possible'.  David Shuttle Ltd's strict adherence to this is the backbone to their ongoing success, their customer driven model has lead them to continually focus on offering their customers only the best products at the best possible prices. They have backed this up with a superb customer service team, who are on hand during business hours to politely help with any order or query their customers might have. The company hold a stock of the vast majority of the items on sale through their online store, so are able to ensure delivery in most cases, the very next day. David Shuttle positions itself between rivals like Goldsmiths.co.uk and House of Frasier to accommodate both the high end customer market as well as the mid range market.
What you can find at David Shuttle
David Shuttle Ltd sells a great range of designer Jewellery, Watches, Home Gifts, as well as Fine Dining and Cooking equipment. The company stocks some of the best designer brands in both its Jewellery and Watch Boutique as well as in its Home Gifts section.
In the Jewellery and Watch Boutique you will find items by names such as Michael Kors, Links of London, Thomas Sabo, Vivienne Westwood, Swarovski Jewellery, Marc by Marc Jacobs, Jersey Pearl, Alex Monroe, Radley Watches and Hugo Boss.
In the Home Gifts section top names like Swarovski Gifts, Villeroy & Boch, Le Creuset, Alessi, Lalique Crystal, John Rocha, Emma Bridgewater and Lampe Berger Fragrance fill the shelves.
David Shuttle Discount Code, Offers and Deals
David Shuttle Ltd have a variety of sale and promotions running throughout the year on select items from across the store. They also offer year round discounts on select items that you will find as you browse their online catalogue. These discounts tend to range between the 5% and 25% range and are found on items from throughout the store. Sadly, these items are not available on a general search that will let you see all the items on sale grouped together, but nonetheless it is nice to know that given a little investment of time you can grab some great bargains.
David Shuttle Ltd is also running an 'Up To 20% Off All Emma Bridgewater Products' when you spend over £100, a 'Save 20% on Sabre when you spend over £100' wth David Shuttle discount code and a 'Save £10, £20 or £50 when you buy Riedel products', set of promotions. But hurry now as these promotions are only short term and won't last for ever.
Finally, the company offer free standard delivery on all items in orders of £50 or more, while orders over£100 qualify for free next day delivery also when you apply David Shuttle discount code. Great to know that your items will arrive quickly and at no added cost.
How to use your David Shuttle Discount Code
For the lucky ones amongst you who have either been given a coupon code by a loved one or have found one online, then head to the David Shuttle website today. Browse their extensive store by category; each item has a zoomable, high quality picture, which really lets you see the item in detail. Once you have found your desired item or items, then simply click the 'Add to Basket' button. Proceed to the checkout once you are done and after entering your personal information you will need to enter your voucher code to receive your discount. Scan down the page and on the right hand side you will see a box which says 'Promotions', simply enter your valid discount code here and then click the 'Apply' button next to it. This will immediately update your order with the discount amount applied.
| | |
| --- | --- |
| Voucher Codes: | 5 |
| Deals: | 5 |
| Free Shipping: | 0 |
| Total offers: | 10 |
Founded in 1978, David Shuttle Ltd is a global online retailer that specialises in luxury Jewellery, Gift Sets and Fine Dining equipment. The company was founded in Beaconsfield, Buckingham, England by David Shuttle, who lent his name to the business. Use your David Shuttle discount code and save on your jewellery or gift sets. Check out also for HS Johnson discount code.
Stores from same category